ACPE UAN: 0233-0000-19-013-L04-P | 1.0 contact hour | Knowledge-based
1:15 pm - 2:15 pm
This session is part of Specialty Connect - it is not included in the Annual Meeting registration.
Course Description:
Gene therapy is an investigational technique that offers exciting promise of curing many debilitating and potentially terminal diseases, such as cystic fibrosis, multiple sclerosis, hemophilia, sickle cell disease, and spinal muscular atrophy. Rather than treating these conditions with medications or surgical interventions, gene therapy may allow disorders to be treated by inserting a gene into a patient's DNA to alter gene expression. Methods to modify DNA include replacing a mutated gene associated with a disease with a healthy copy of the gene, inactivating, or "knocking out," a mutated gene that is functioning improperly, or introducing a new gene that can help fight a disease. Although gene therapy holds great potential for improving the treatment of many conditions, there are many challenges that must be overcome to develop treatments that are safe and effective. Identification of  effective vectors (e.g., inactivated viruses, bacteria, liposomes, and plasmids) that will insert a gene into DNA is a critical step. In addition, it is important to ensure that gene therapy does not trigger a harmful immune response.
This session will provide an overview on key terms and concepts of gene therapy, while also providing an international perspective.
Learning Objectives:
At the completion of this activity, participants should be able to:
1. Explain the key terms and concepts of gene therapy.
2. Describe investigational gene therapy strategies and how they may influence manifestations of various disorders.
3. Compare and contrast various types of vectors used in the delivery of gene therapy.
4. Describe the experience of gene therapies internationally.
Faculty:
Sophie Schmitz, BA, MA
Managing Partner | Partners4Access | Hilversum, Noord-Holland, Netherlands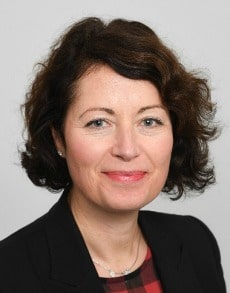 Sophie is Managing Partner at Partners4Access, the global access experts for orphan drugs, cell and gene therapy. She brings a wealth of commercial and access experience across orphan and cell and gene therapies to the benefit of the biopharma industry. She advises the biopharma industry on price and market access strategies, with the ultimate goal of optimizing fair access for all stakeholders in rare disease. Her 20+ year career spans various disease areas and medical devices, successfully supporting the strategy development and operationalization for orphan drugs. Her extensive industry experience includes several product launches and managing global, regional and local teams.
She is an industry thought leader having published several articles, engaged in speaking opportunities in the US and EU conference circuit and is regularly quoted by the media.